Trinidad/Great Britain
"Ophelia" Act 3 Scene 1 -
The Universally know image of Ophelia by John Millais, is used as a metaphor for Kashmir, a country, once called 'Paradise on Earth' and its people, caught between two countries.
Ophelia, caught in the political machine of the state and her deep love for Hamlet, is driven to suicide.
After 60 years of asking for the 1947 UN recommendation to, 'exercise their right of self-determination,' together with the endless curfews and night raids many people in Kashmir are suffering from depression and some, like Ophelia, are driven to suicide. This short film cracks a light onto 'when hope is lost.' There is an Ophelia living in each of us.Filmed in cooperation with Mat de Koenig (Australia).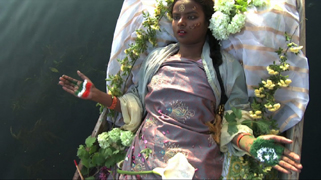 Pictures of the presentation on the 25.05.2012: