Austria/France/Germany
"ich weiß doch, dass ich das nicht darf"
(VideoFilm. 2012. 00:06 min.)
Mädchen in Uniform ist ein deutscher Spielfilm (1931), nach dem Buch und Schauspiel Gestern und Heute (1930) von Christa Winsloe. Verantwortlich für die Regie war Leontine Sagan und für die Produktion Carl Froelich, der sowohl die künstlerische Leitung des Films übernahm.
Berichten zufolge, hat Sagan den Schwerpunkt auf die Beziehung der beiden Hauptdarstellerinnen Fräulein von Bernburg (Dorothea Wieck) und Manuela von Meinhardis (Hertha Thiele) fokussieren wollen während Froelich aus Produktions- und Erfahrungsgründen es bevorzugte den Augenmerk auf die streng preußische Erziehung zu lenken um ein breiteres Publikum anzusprechen. Sagan übernahm die Schauspielführung.
Ursprünglich nimmt die Geschichte von Manuela und Fräulein von Bernburg ein tragisches Ende, da Manuela aus Verzweiflung versucht sich das Leben zu nehmen, jedoch hindern sie ihren Kamaradinnen daran.
Mein Anliegen ist es die Frage zu stellen: was wäre gewesen wenn … ?
Und wie lassen sich die Grenzen definieren? Inhaltlich und auch (!) in dessen Form, unter anderem eingebettet in den damaligen Umständen?
p.s. : Und wie sieht es heutzutage aus?
"I absolutely know I should not do this"
(VideoFilm. 2012. 00:06 min.)
Mädchen in Uniform (girls in uniform) is a german feature film (1931) based on the play and novel Gestern und Heute (yesterday and today) by Christa Winsloe. Leontine Sagan was the director, Carl Froelich the producer and art director.
Reportedly, Sagans main focus was the relationship between the two main actresses Fräulein von Bernburg (Dorothea Wieck) and Manuela von Meinhardis (Hertha Thiele) while Froelich was more interested, out of production and experience reasons, in addressing to a wider audience, focussing the rigorous prussian education system. Sagan took over the leading of the actors.
The Story of Manuela and Fräulein von Bernburg has originally a tragically ending as the desperate Manuela tries to suicide, but is then prevented doing it by her comrades.
My concern is to ask the question: what would have been if … ? How can the frontiers be defined? In form and content enclosed among other things by the former circumstances.
p.s. : What does it look like nowadays?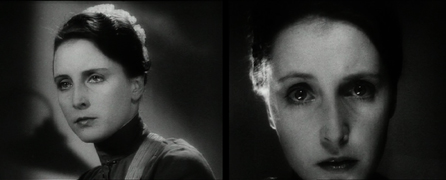 First tests of the film being projected onto the wall: